Understanding your investment returns for 2018
Why are your returns lower?
There are 3 main reasons for the poor stock market performance we've just experienced, especially the 4th quarter of last year.
1. Increasing interest rates bring fear of a recession. It's becoming more expensive to borrow money for both families and corporations. This slows down economic growth and hurts stocks.
2. Trade wars between the USA and China and spats between Trump and every other country doing business with the US. This creates uncertainty and the markets hate uncertainty. When trade wars happen nobody wins.
3. Lower corporate earnings. In Canada, the oil discount has had a significant impact on energy companies and that has been a significant drag on the TSX as Canadian producers suffered from a lack of pipeline and oil-by-rail distribution capacity. A drop of oil prices and widening differential in price compounded the losses suffered by the energy sector. The decline in stock prices wasn't limited to just the energy sector, however, as the correction spared few sectors.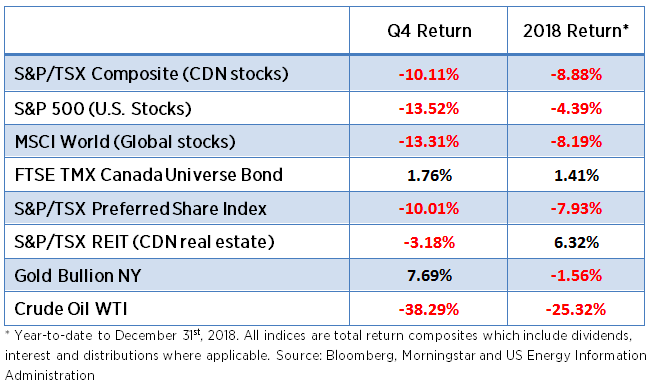 December was one of the worst months in history (it saw the largest sell-off of mutual funds and EFTs since October 2008) and wiped out most of the gains of the year as you can see from the chart above. Those who panicked forfeited 9% growth since the lows of December. In fact, both the TSX and S&P 500 are already up over 7% year to date in 2019 (as of January 25th).
We have to put our returns in perspective.
Most of us will naturally compare our returns to past performance. This is not realistic, and a better approach is to compare your returns to a comparable benchmark. Look at the chart above and you can see that the Canadian, US and Global benchmarks were all down by 10-13% in the last quarter alone and negative on the year. These are the markets we are invested in and it stands to reason that our returns will be similar.
Managing risk.
Investing comes with risk. If you want higher returns than traditional GICs that pay 1-2% per year it requires taking on additional risk. With that risk comes the potential for higher returns, but also negative returns in bad years. The good news is that historically there are many more good years than bad years.
The broader US market called the S&P 500 has only had 5 negative return years over the past 30. The Canadian market, the TSX, has been positive 14 out of the past 20 years and has only once had 2 consecutive negative years since 1999.
We have multiple investing platforms available for our clients and based upon their time horizon, objective, risk tolerance, and age, we then recommend the best fit.
Investing is a long term commitment similar to raising children. You cannot constantly change your philosophy.
Our philosophy is to be diversified across as many asset classes as possible in different geographical regions. We typically include investments that are Canadian, US and Global. We do tweak these allocations periodically as necessary. Right now, there's no reason to make any sudden changes, as the economic call going forward hasn't changed.

Next Seminar: Retirement Investing to earn income - Click Here to Register
2019 Outlook

"The stabilization of the Canadian economy alongside a re-rating of valuation offer attractive upside potential. In our view, and for the first time in years, the Canadian equity market looks attractive...US equities are attractively valued and show positive earnings fundamentals that are supported by a growing economy...Global manufacturing, while slowing, is still positive...Global trade, while slowing, is still positive." - Philip Petursson, CIM, Chief Investment Strategist, Manulife Investments
(For Philip's full report click here)

We need to stay invested and trust the long-term outlook - which is still looking positive.
Balancing Risk & Reward

When investing you can choose a less volatile platform that will provide steadier but lower returns in the 3-6% range. When the markets are up, you will never participate fully in the upside, but conversely, when the markets are down dramatically, you will not participate fully in that side either.
You may prefer to focus on growth and participating to a greater degree in the upside of the markets. This a more volatile option and although it provides greater upside potential, you will also fully participate in the negative years. The fact is that there are way more up years than down years and over time the markets go up in value to the tune of 8-12% per year on average. This option is suitable for people who have 10+ years time horizon until they need the money, or for the assets in the "growth bucket" portion of their retirement plan.
Another option is to invest with the objective of receiving income, rather than growth. There are numerous strategies for achieving this. You can invest in dividend-paying stocks and live off of the income, you can buy GIC's that earn interest (keep in mind that with low-interest rates a $1 million will only generate about $30,000 a year), you can turn your cash into a lifetime annuity or you can invest in a cashable annuity that locks in your income based on the very first deposit and resets that income base every year. This latter option is our recommendation as it allows you to participate in growing markets but it gives you protection against falling markets. This feature is only available because they are insurance products.
You can eliminate bad investment decisions by understanding your individual risk tolerance, your objective and time horizon and the products you are invested in. We host seminars several times per year.

Next Seminar: Retirement Investing to earn income - Click Here to Register

Please feel free to reach out to us with your questions. We are here to meet with you and review your planning to ensure your investments are properly aligned with your objectives, time horizon, and risk tolerance.
587-755-0159