When you are married it's impossible to move forward into your ideal lifestyle if you and your spouse are not on the same page, especially with money and retirement. You have competing visions and at some point, you both have to get on the same page or you just move forward regardless, because, out of all of the human emotions, regret is the most punishing.

I remember this couple who came into the office for an initial consultation. Both in their Late fifties - healthy-looking. They had accumulated a decent nest egg. She was ready and eager to get on with retirement, but he was stuck.

She wanted to get to the ocean and continue learning how to surf. She knew what she wanted and she wanted to just do it; not sit around and count the beans every day. It was obvious they were not on the same page.

I have no idea what happened to them as they never did anything else with us. But, I think of them often. Especially her. She was near 60 and was learning to surf. That's no easy task. But, she was up for the task, ready to start doing it, and Nancy and I admired her tenacity. Her Mr. - well he just wanted to work and gather more beans.

Have you ever heard of a club called the 100+ Ski Club? It consists of individuals over age 100 who are still active downhill skiers. Yes, you heard me correctly. downhill. One guy, Lou Batori, skied until he was 107.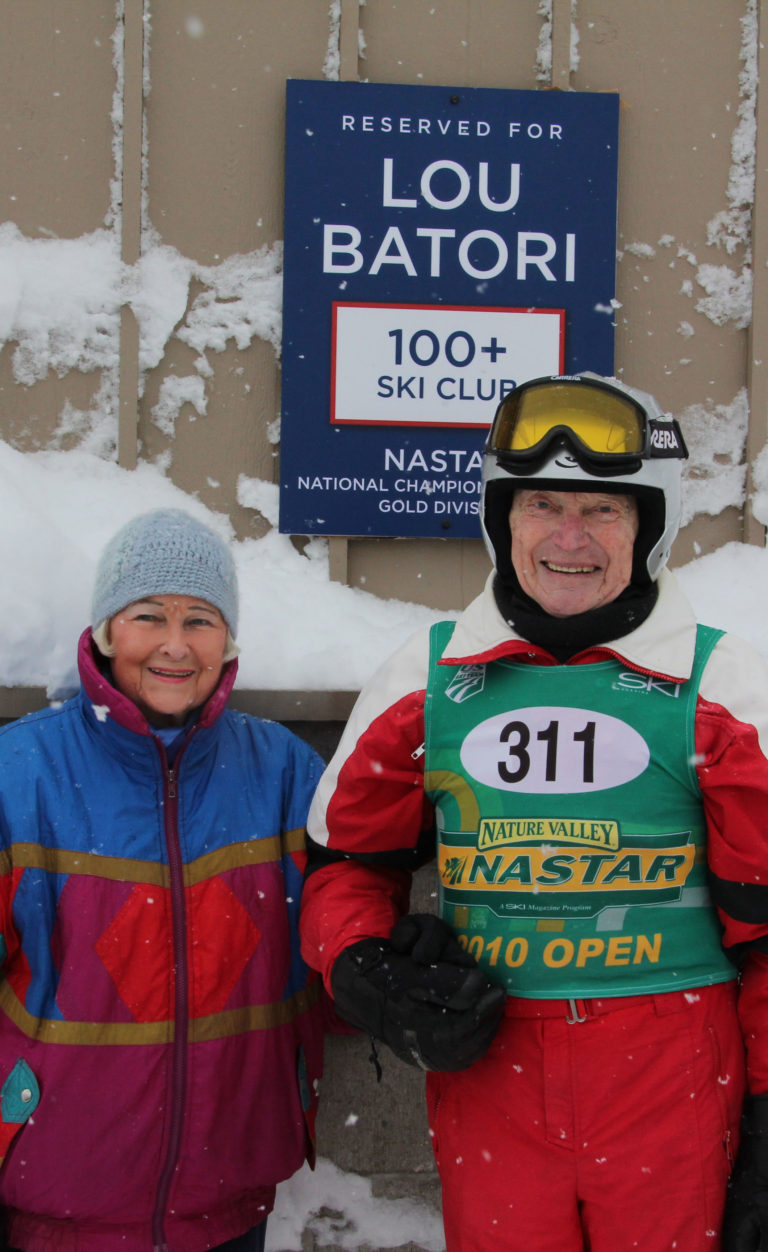 Do you know what keeps so many people from living their ideal lifestyle?
Fear. Limiting beliefs. Mindset. Disorganization. Unsure what they can afford. My friend Bruce (Hi Bruce) once described retirement to me as a big wall with a door in it and you are the one who must open the door and walk through it. He says that if you think there is a monster on the other side, then you will not open the door. If you open the door and see a lush green field then you are likely to walk through it.
Life is a whole series of doors. It's like the video game, Super Mario and there's just one level after another and many monsters to get past. Most people get stuck at one level and stay there for years.

What do they do instead? Work 'til they drop. Eat themselves into a coma. Sit around in the house in their slippers and worn-out flannel pyjamas watching gameshows with a beer in one hand and a bag of chips in the other. They live the most boring existence known to mankind. I'm not sure what your idea of life is, but if it's all about counting your beans, or obsessing over the stock market, then you are on the wrong page.

One thing the COVID lockdown prison has taught me is that life is too short and I need to get on with it. Personally, Nancy and I have decided to get ourselves ready for the post-pandemic life. We have shed 75 pounds between the two of us. We have transformed our diet. We exercise. We both have paddleboards. We are buying new E-bikes as soon as we can go to America - you can get more powerful ones there :-). We are preparing to downsize and move closer to our grandchildren. We are shedding the extra burdens from our lives so that we can live the life we have always imagined.

We have a 2-year-old granddaughter and another one on the way. We are not going to be the grandparents sitting in a lawn chair elbow-deep into a bag of chips watching the kids have fun - no, we are going to be in the mix with them. Travelling, Hiking, biking, boogie boarding in the ocean, paddle boarding, riding roller coasters at Disneyland, whatever - bring it on. Healthy and vibrant is the vision of our future; not spending our lives in a hospital queue, not nursing our aches and pains. Every time I step onto the treadmill or say no to unhealthy eating, I have a picture of our sweet little Nova and I am going to make some small sacrifices now for the greater payoff later - post-COVID.

Do you have a vision for the life you want to live? Once you get a vision of the life you want to live, you have to ask. How long will it take to get my total financial house in order so that I can start enjoying my ideal lifestyle?

It's a fair question. It's not like you can just put in your 2-week notice and resign from your old life and start retirement. The best-case scenario is that it will take a year. If you have to sell a business or find someone to take it over, it can take 3 years. What if you have to train a replacement for your job?

Downsizing or rightsizing.

Moving to a new town to retire. What if you need a knee or hip replacement or back surgery - how long will that take? The more irons you have in the fire the longer this is going to take. But, if you wait another year or two, it's going to take a lot longer than you realize. Right now, in the midst of this COVID lockdown is the perfect time to get organized. Whatever you do, don't waste this golden opportunity.

Let's start with a few questions:
What is your ideal lifestyle?
What's important to you about money, health, relationships, family, and your future?
What are some of your tangible goals over the next few months and years?
How organized is your financial house?
How confident are you in your current financial state of affairs?
What's keeping you from living your ideal lifestyle?

Would you like some help with this?

All of the above is a part of the retirement planning that we do with those 55+. At our first meeting, we create your Financial Retirement Roadmap for living life on purpose. The things that are important to you, the people, activities, goals that you have for the next stage of your life are all factors that contribute to a successful retirement. They are the starting point upon which your retirement income plan will be designed. You have worked hard and saved for this moment. You are at a crossroads. Now what? Where do you go from here?

There are 4 parts to meeting #1:
1. Values discussion
2. Goals and timelines
3. Financial Summary
4. Exactly what you need to do next

If you would like to do this the process is simple. Choose a meeting time in our calendar, complete the questionnaire and gather up your documents to bring to the first meeting. We can meet in our office or zoom. If you are married, both of you must attend.

On another note

Our office is open for in-person meetings as usual and we are an essential service like the banks and grocery stores. We follow the local COVID protocols as required and can provide a safe environment. We have a few free parking passes for The Palliser Parkade as well. If you aren't quite sure if you should book a meeting you can start with a 10-minute call for more clarity.

We are a husband and wife team and we work exclusively with financially successful individuals over age 55 who want to get their total financial house in order and start living the life they have always dreamed about. We want to help you - 'to get on with it'.
Click Here to learn more about our process for creating your financial roadmap for retirement, getting your total financial house in order, and living a life that inspires you.
Retirement Income Planning Exclusively for Those 55+
Willis J Langford BA, MA, CFP
Nancy Langford CRS
You may also enjoy, 3 Ways Couples Can Get on The Same Page Prior To Retirement