What you need to know about GIS
- The Guaranteed Income Supplement
This program is to ensure that every senior has a minimal amount of income.
Based on the level of reported taxable income for Canadians over age 65 and receiving OAS.
Different amount of benefits based on being married or single.
The benefit isn't taxable.
This program offered by the federal government is one of the most difficult to understand. I will divide this lesson into several sections to help you understand the section that most applies to your circumstances.
The government has created 5 categories of people who can qualify for GIS and then created 5 sets of tables for helping you determine if you qualify and how much you will be eligible to receive.
Qualifying for GIS is based on your reported taxable income from the previous year. (Line 15000 from your tax return) However, the total calculation amount does not include any amount you receive from OAS.
You have to file an annual tax return in order to qualify and you have to apply for this benefit.
Once you apply for the first time you do not need to reapply each year - only once. (Example: The amount of GIS you receive in 2020 is based on reported income from your 2019 tax return. Also, GIS runs from July 1 to June 30th of each year).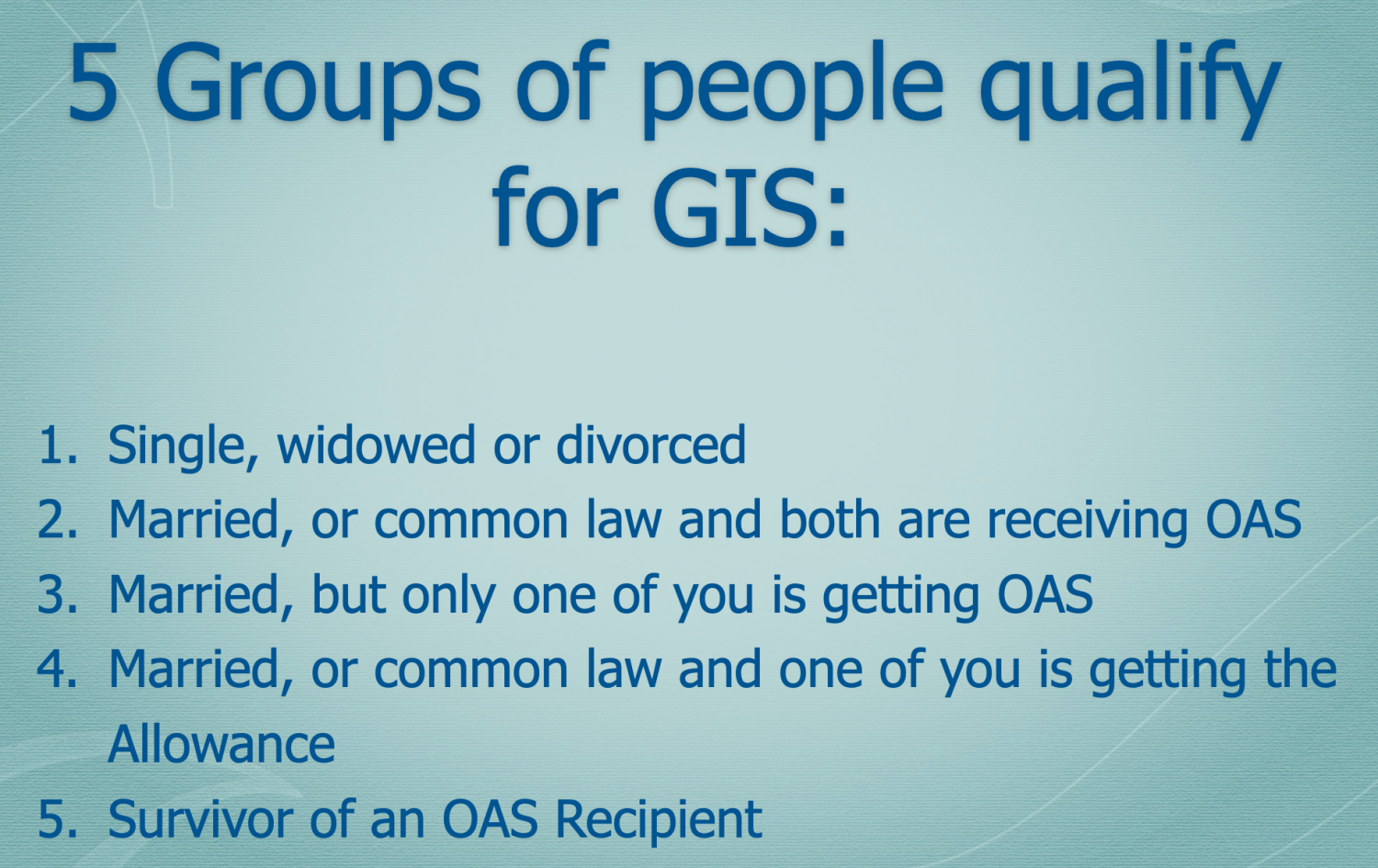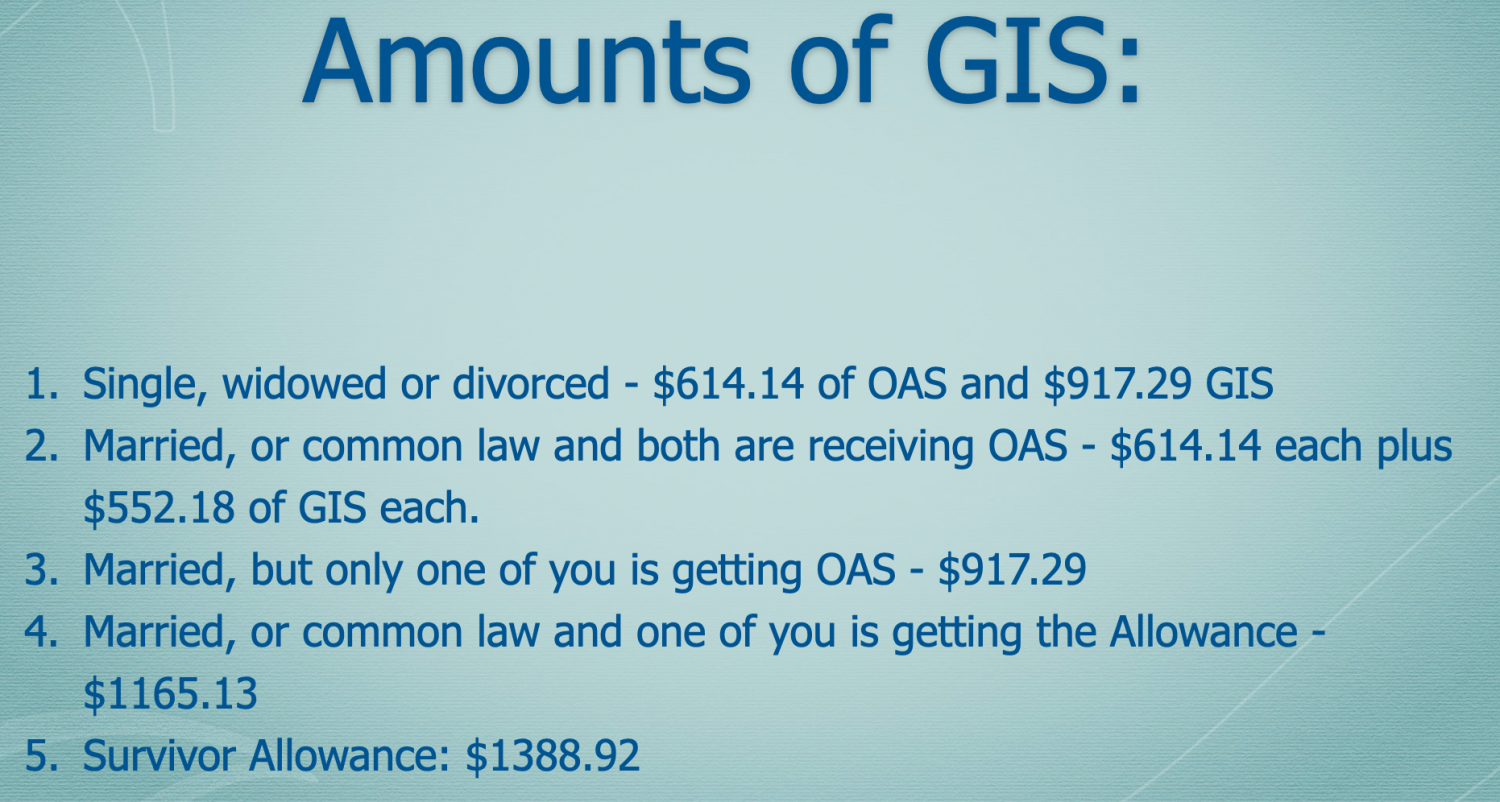 Let's look at each individual category and determine how you qualify and how much you could receive:
1. Single and over age 65 and collecting OAS.
If you had no other taxable income, other than OAS, you would qualify for $917.29 of GIS. Your total monthly income would amount to $1531.43. The difficulty comes if you have some other taxable income from sources like employment, RRSPs, RRIFs, pension, annuity, investment income, rental income, or any other source of taxable income, but, not any money you take from a TFSA.
As a single retiree over age 65, once your total income is $18,624 or more, you will not qualify for any amount from GIS. Keep in mind that this amount does not include your OAS. You can access the Service Canada website by clicking here.
I have created the next video to walk you through their site.
2. Married and over age 65 and both collecting OAS.
Married is defined as also common law - a conjugal relationship for at least 12 months. You receive $614.14 each from OAS and also qualify for a maximum of $552.18 of GIS. Your total annual income would be $27,991.86 ($2332.64/month)
Let's look at the site together.
3. Married and one spouse is collecting OAS, but not the other.
In this case, one spouse is over age 65 and collecting their OAS pension, but their spouse is either under age 65 or does not qualify for OAS.
Let's look at table 3 from the Canada.ca website:
4. Married and collecting OAS & GIS and spouse is getting the Allowance.
What is the allowance?
5. Survivor Allowance
If you are the survivor of a spouse/partner who passes away and you are under age 65.
Conclusion
This is quite confusing, I know. I didn't create the system, I'm just trying to explain it and help you benefit from it.
This is where most people make so many mistakes. They do not understand the ins and outs and just recklessly start pulling money willy-nilly from wherever with no plan. If you go and speak with your advisor at the bank they will most likely just tell you to defer everything until age 71. when it comes to retirement income planning you need to use up your less flexible, less tax-friendly sources of income first.
There are strategies that you need to be aware of that can help you make the most of your opportunities. GIS is based on your line 150 total taxable income. RRSPs and RRIFs have a time frame of at least 11 years where you can decide to take money out or defer. Depending on the size of your RRSP you can decide to take money out before you turn 65 so that you can qualify for GIS at age 65. If you have potential taxable gains from some property you can choose the best timing to dispose of the gain.
Learn more about our Flat-fee & All-inclusive Retirement Income Planning Services for those 55+
Book an introductory meeting.

Retirement Income, Investment & Tax Planning
Willis J Langford BA, MA, CFP
Nancy Langford CRS