Eye on the Markets
This is a special blog to simply track the markets and market sentiment as we navigate a fundamental shift taking place in the economy and the markets in 2022.
We are providing the weekly numbers along with some commentary.
The 5-day and YTD numbers are taken from google and may not be 100% accurate
and there may be some currency conversion that isn't factored.
5-Day return for the week ending November 25:
DOW was up 2.20%
NASDAQ was down .27%
S&P 500 was up 1.51%
TSX was up 2.24%
Year To Date Numbers:
DOW -6.12%
NASDAQ -29.09%
S&P 500 -16.06%
TSX -4.02%
The markets had a strong week with the exception of the NASDAQ. The technology sector is still struggling, which is reflected in the NASDAQ. The VIX dropped to 20.5. Another good sign is that there is a little less volatility at the current moment. You can see that there has been a transition from growth to value over the past year and investors are seeking a more conservative approach to their money in looking for stable businesses that pay dividends. It's also interesting to look at the 30-day returns.
The TSX is up 5.33%
The DOW is up 7.22%
The S&P 500 is up 5.75%
NASDAQ is up 4.02%
5-Day return for the week ending November 18:
DOW was up .25%
NASDAQ was down .78%
S&P 500 was down .32%
TSX was down -.38%
Year To Date Numbers:
DOW -7.76%
NASDAQ -29.6%
S&P 500 -17.33%
TSX -5.91%
The markets were rather flat for the week. The VIX ended the week at 23.12, a little higher than last Friday. The markets want to stage a rally, but every time things are looking a little better, some speaker from the Federal Reserve will talk things down. They want to slow the economy with the threat of raising interest rates to fight inflation. Until we have clear direction on the pace of increases, we'll likely see more of what we have seen all year - volatility. A recession within the next few months is looking more likely. The big questions will be how deep and for how long?
The other thing I have noticed is that the markets tend to pop on any hint of good news. That's encouraging in the sense that we may not retest the lows of earlier this year. Over the next 2-3 months, we should reach the peak of interest rates, the economy should be slowed or in recession, and the cycle will start over again. At some point in the latter part of 2023 rates will decrease to spark the economy. No one knows for sure and we don't have a crystal ball. I still believe the best place to be is in the market because you want to participate in the eventual rally - which can happen fast. If you lock up too much of your money in GICs you'll be stuck and have to wait a long time (up to 5 years) to access that money to get it back into the markets.
5-Day return for the week ending November 12:
DOW was up 3.99%
NASDAQ was up 7.67%
S&P 500 was up 5.61%
TSX was up 3.0%
Year To Date Numbers:
DOW -7.76%
NASDAQ -28.48%
S&P 500 -16.75%
TSX -5.30%
The big story this week that spurred the markets higher was the lower-than-expected CPI numbers in the US. It appears that inflation has peaked and is now retreating. This is good news for the markets because it signals that the Federal Reserve will be able to decrease the amount of interest rate hikes moving forward, which is good for stocks. The VIX came down to 22.52, which is the lowest it's been in 2 months. All in all, we had a good week and the worst may be behind us for the time being. The US midterm elections were going to be a big story, but nothing has been officially decided by the end of the week.
5-Day return for the week ending November 4:
DOW was down 1.07%
NASDAQ was down 5.02%
S&P 500 was down 2.87%
TSX was up .22%
Year To Date Numbers:
DOW -11.43%
NASDAQ -33.84%
S&P 500 -21.39%
TSX -8.31%
There were a lot of key data points this past week that impacted the markets. The federal reserve increased its prime rate by another .75%, sending the markets up for a few minutes and then closing down significantly by the end of the day on Wednesday as Jerome Powel held a news conference and got asked more questions. Thursday was another down day and then Friday we saw wild swings, but the markets ended up at the finish.
Is there going to be a recession and if so, how bad will it be?

Central bankers only have one tool for combating rising inflation - interest rates. However, there is another tool being used - the media. All of the news about an impending recession that we have been hearing for months may just be a ploy by the government, which owns the media, to help drive down inflation by talking up recession.
It sounds like a good idea. There's nothing like the worries of recession to cause most people to start tightening their belts. This will have an impact on inflation as people start spending less on everything, but the necessities.
What's working against a recession?
Jobs. There is an apparent lack of employees in the developed world. It's hard to have a recession when the unemployment numbers keep getting better. The numbers improved again in October. My thoughts: There is an obvious slowing of the economy taking place, but it doesn't appear that we are going to have a long, deep recession. However, I do think we will have higher inflation for a longer period than what the central bankers want us to believe.

The 2 types of inflation are a problem. There's price inflation, which as we know has gone wild. We all see this every day we go shopping. The second is wage inflation and it hasn't moved much. If incomes were increasing at the same pace as everything else, we wouldn't be talking about this as much.

Not sure if you noticed in the federal budget update that there is a tax credit available for corporations that invest in their businesses and develop their workers and improve wages.

There's also a 2% tax on any publicly traded company that is focused on share buybacks. For example, when a large energy company has excess revenue they have to do something with that extra cash. Typically, they can return some to their shareholders in the form of a dividend, or a special dividend, which many are doing. Or, they can reinvest that extra money into growth. Since there's no capacity to ship oil and gas they don't want to invest in finding and producing more.

The other strategy these companies employ is to buy back their shares on the open market. The fewer shares that are outstanding, the higher the share price will go. Again, this adds to shareholder value, which is the primary objective of every publicly traded business.

There are some positive signs in the world.

1. Russia is running out of money. Its economy is suffering greatly. Hopefully, they will end the war in Ukraine soon.

2. China's COVID ZERO policy appears to be changing. There were some rumours this past week that the policy was changing their markets immediately shot up. China is the world's second-largest economy and they have not even started the post-pandemic recovery. If they do stop this silly covid 19 lockdown that economy will roar back to life and will have a significant impact on world trade and especially the flow of goods.

3. Interest rates are nearing their peak or at least nearing the fast and high rate of increase. Most likely we will see Canada and the US do another .75% in December and then have much smaller increases in early 2023 - maybe .25%. Once this plays out in the next couple of months we should see some stability return to the markets and a more sustained rally.

4. Government spending. This is the leading cause of rapid inflation. There seems to be some commitment among governments in the G7 to reign in spending and printing money.

Michael Campbell points out the G7's Debt Problem

The G7 group of nations have a sovereign debt problem. Debt levels have reached positively spooky heights:

Japan – 259.43 percent of GDP
Italy – 150.03 percent of GDP
United States – 128.13 percent of GDP
Canada – 112.85 percent of GDP
France – 112.80 percent of GDP
United Kingdom – 95.35 percent of GDP
Germany – 68.60 percent of GDP

It's not all doom and gloom.
I know it's been a tough year and many of you are wondering what's going on in the world and what you should do with your money in light of needing to grow savings and also draw a retirement income. My encouragement is to hang in there for a little while longer. I believe the next 3-4 months are crucial before making any significant changes.

You don't want to tie up money in long-term GICs. That's why we push the savings account at CI Direct which pays 3.55% on a daily interest basis. No commitments, fees, or restrictions. It is a good idea to keep a little stockpile of cash for a rainy day.

Consider more guaranteed income from Annuities. Payouts from annuities are the highest they have been in years. Learn more about annuities from this blog post.
5-Day return for the week ending October 28:
DOW was up 5.37%
NASDAQ was up 2.17%
S&P 500 was up 3.77%
TSX was up 2.94%
Year To Date Numbers:
DOW -10.18%
NASDAQ -29.88%
S&P 500 -18.67%
TSX -8.31%
Another week of positive gains, especially on the DOW. The VIX dropped to 25.75, which is the lowest it's been since early September. This is a reminder of how quickly the markets can turn and how important it is to stay invested. You don't want to miss the best days in the markets because you were sitting in cash. Everyone is always waiting for those moments when the bottom occurs and they get in. The problem is the bottom is usually long gone before anyone realizes it.
5-Day return for the week ending October 21:
DOW was up 3.48%
NASDAQ was up 2.69%
S&P 500 was up .88%
TSX was up .27%
Year To Date Numbers:
DOW -15.04%
NASDAQ -31.41%
S&P 500 -23.32%
TSX -12.32%
Another week of volatility. That's the most common theme of 2022. This week saw some improvement as the corporate quarterly earnings kicked off. The markets eeked out some gains by Friday to close in positive territory.
5-Day return for the week ending October 15:
DOW was up .73%
NASDAQ was down 3.18%
S&P 500 was down 1.77%
TSX was down 2.77%
Year To Date Numbers:
DOW -19%
NASDAQ -34.81%
S&P 500 -25.3%
TSX -13.7%
Another volatile week of wild swings. Highs and lows. The US inflation numbers are not retreating. The consumer price index was up .4% in September. The expectation of more interest rate increases in the coming weeks. Most likely .75% in both November and December. It sounds like a broken record. More wait and see. There's not a lot to say other than what we have been saying for many months - hang in there and weather the storm.
5-Day return for the week ending October 7:
DOW was up 1.53%
NASDAQ was down .06%
S&P 500 was up .83%
TSX was down .21%
Year To Date Numbers:
DOW -19.92%
NASDAQ -32.72%
S&P 500 -24.12%
TSX -12.49%
More volatility in the markets. During the first half of the week the markets took off like a rocket, but then they returned to earth by Friday. The DOW ranged by 3.6% from top to bottom. The NASDAQ was up as much as 4.7%, the S&P 500 by 4.16%, and the TSX had a range of 4.18%. That's a lot of fluctuations in one week. The fundamentals remain the same, but when we see this much volatility it can only be attributed to the constantly changing sentiment. The silver lining this week is that at least there is some green.
5-Day return for the week ending September 30:
DOW was down 2.75%
NASDAQ was down 2.38%
S&P 500 was down 2.64%
TSX was FLAT
Year To Date Numbers:
DOW -21.48%
NASDAQ -33.20%
S&P 500 -25.25%
TSX -13.15%
Just when you think it can't get any worse - it does! Another brutal week on the markets. The markets found a new bottom for the year. The volatility index was up to 34, and as low as 29, but closed out the week at 31.62. The reality of higher interest rates and a pending recession continue to fill the news. It's the same story we hear each week. It's kind of like a slow-moving train wreck. Is it going to happen or not? Until inflation retreats and rates peak, the stock market is stuck where it is and the volatility will continue.
The silver lining.
One of my mentors would often say to me when you are halfway across the lake it's the same distance to keep going as it is to turn back from where you started. There's a lot to be learned from that statement. When it comes to navigating this awful, no-good year on the markets we have to keep things in perspective.

Believe me, I'm as tired of talking about this as you are in listening to me - so we are all on the same page here. My message is still the same - hang on and endure the storm. Wait it out. Don't do anything you'll regret later.

The reality is, we are more than halfway across the lake. The worst is behind us and at some point in the not to distance future the clouds will dissipate and the sun will shine again. Here's a chart that brings me some solace.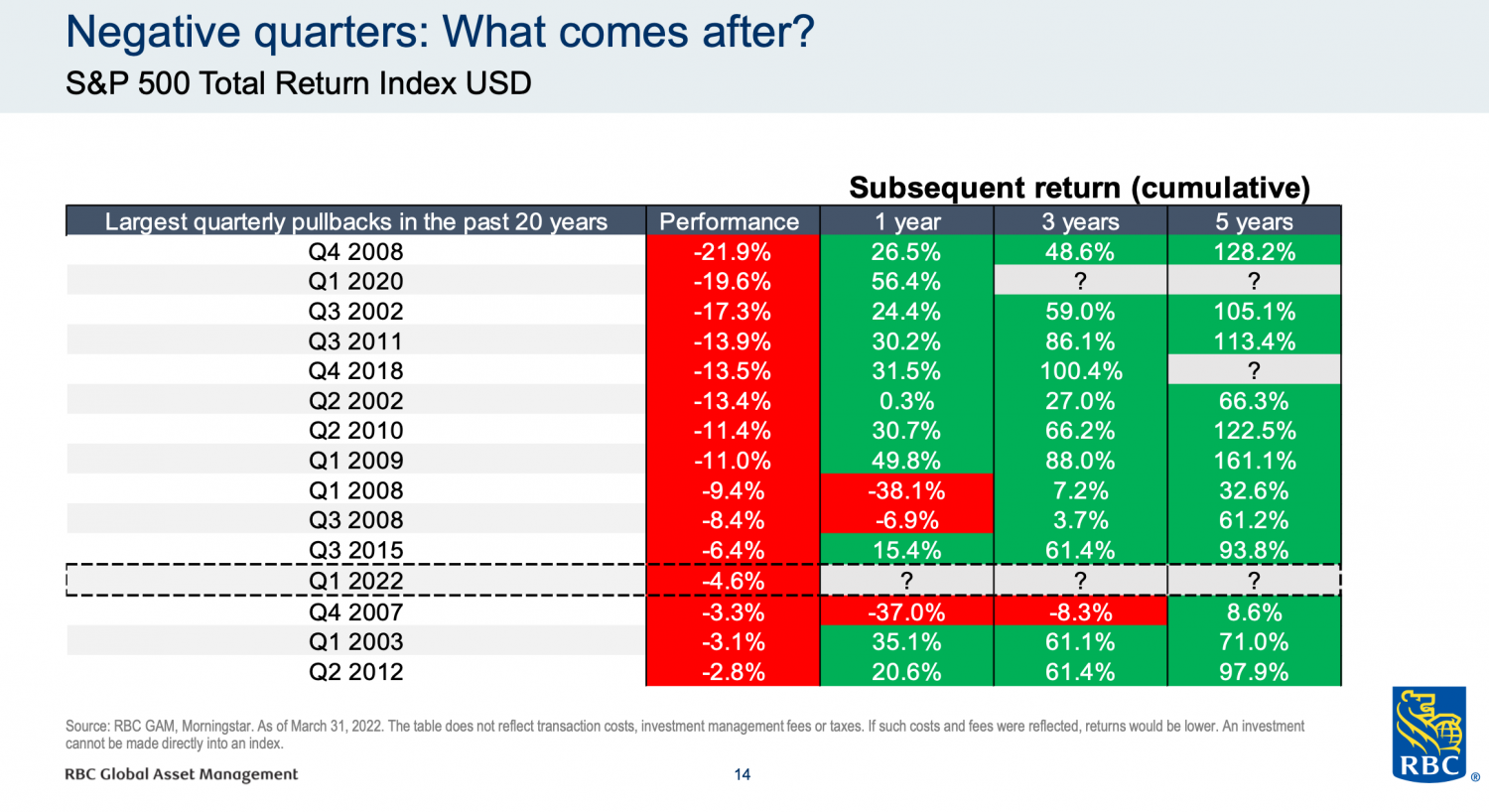 As ugly as it is right now, it will get better once the storm passes. History provides us with some comfort in knowing that a year, 3 years, or 5 years after a really bad year the markets can recover in a big way.
Inflation will abate. Interest rates will retreat and the markets will recover. In the meantime, stick with it. Don't look every day at your balances. If you are younger, keep adding your monthly PACs as you will benefit from dollar-cost averaging - this is an opportunity of a lifetime.
If you are older and ready to take out your money, be patient for a little while longer. Minimize your withdrawals if you can. There's still going to be some short-term volatility and we'll bounce along the bottom for a while yet, but we are more than halfway to the other side.
5-Day return for the week ending September 23:
DOW was down 3.69%
NASDAQ was down 4.15%
S&P 500 was down 4.07%
TSX was down 3.76%
Year To Date Numbers:
DOW -19.12%
NASDAQ -31.36%
S&P 500 -23.00%
TSX -12.98%
Another brutal week on the markets. Most markets re-tested the lows made earlier in the year. The volatility index closed out the week at 30.10. The reality of higher interest rates and a pending recession seemed to come home to roost. Most people now believe it's going to happen sooner than later. We are in for a longer storm than we had hoped for. How long is anyone's guess?
The US mid-term elections are just weeks away and many observers believe that there is some manipulation taking place to try and bring inflation down. In fact, there has been a significant drawdown of the SPR (Strategic Petroleum Reserve) to temporarily keep energy prices lower, especially at the pump. The SPR can hold 714 million barrels of oil. Two years ago it was sitting just above 650 million and as of July 31, it had been reduced by 200 million barrels. Some experts say that's about 40 years' worth of reserves used up. It's going to take a lot of production to replace that capacity.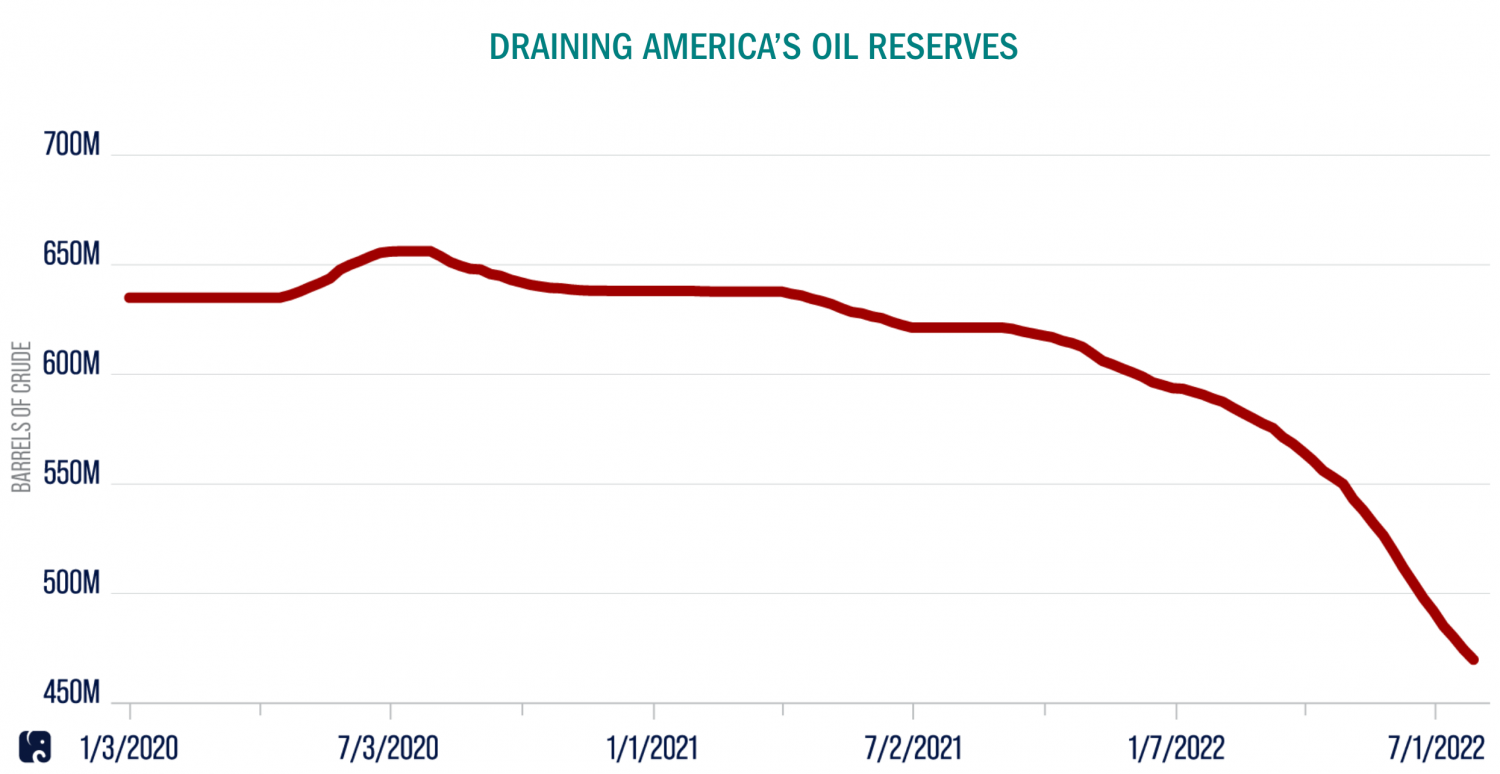 There is an energy crisis across the globe. The transition to clean alternatives is not happening fast enough, and oil companies have not been focused on drilling for more oil because of environmentalists, lack of pipelines, and shipping blockages. Insult to injury, the war in Ukraine is having a huge impact on supplies, especially in Europe. When the midterms are over, we'll probably see the price of oil start to increase again. Let's keep an eye on that one.
We are in the midst of an economic and market storm and it's crucial to keep your emotions in tack, and not start selling at the bottom. This is where heroes and zeros are made. Stay the course and you can be a hero. The storm will end. The bear market will eventually turn into a bull market and you'll be glad you stayed invested.
On a bright note - everything is on sale and there are bargains to be had with many stocks. If you have cash, now is the time to get it working for you. Most people want to jump on the bandwagon when everything is going up, usually near the peak. The way to grow wealth is when the opportunity looks the bleakest. As Warren Buffet would say, when people are running for the exits is the time to be running in. If you want to talk, please reach out to us as we are happy to chat at any time.
Book an in-person meeting here
5-Day return for the week ending September 16:
DOW was down 4.16%
NASDAQ was down 5.97%
S&P 500 was down 5.15%
TSX was down 2.7%
Year To Date Numbers:
DOW -15.75%
NASDAQ -27.69%
S&P 500 -19.25%
TSX -8.71%
This past week we continued to see the impact of volatility with the markets up on Monday in preparation for the US report on the CPI numbers for August, which came in worse than expected and sent the market in a tailspin. The VIX increased to 26.30. The markets ended the week down significantly. Next week the Federal Reserve will announce its key lending rate which is expected to be at least another .75% raise.
There's a more significant inverted yield curve happening where the 2-year treasury yield is now higher (3.8%) than the 10-year treasury yield (2.75%), which typically signals a recession is forthcoming. We are still about 5% away from matching the June lows of the year. Again, it's a wait-and-see game. Interest rates are going quickly, but inflation is stubbornly high and slow to retreat. The message is clear from central bankers - they will not stop raising until inflation is coming down. As you can see from the chart below that tracks 5 leading indicators of a recession; only 2 are met so far. I think most of us would like to see the slowdown (recession) happen and just get it over with. This seems to be dragging on way too long.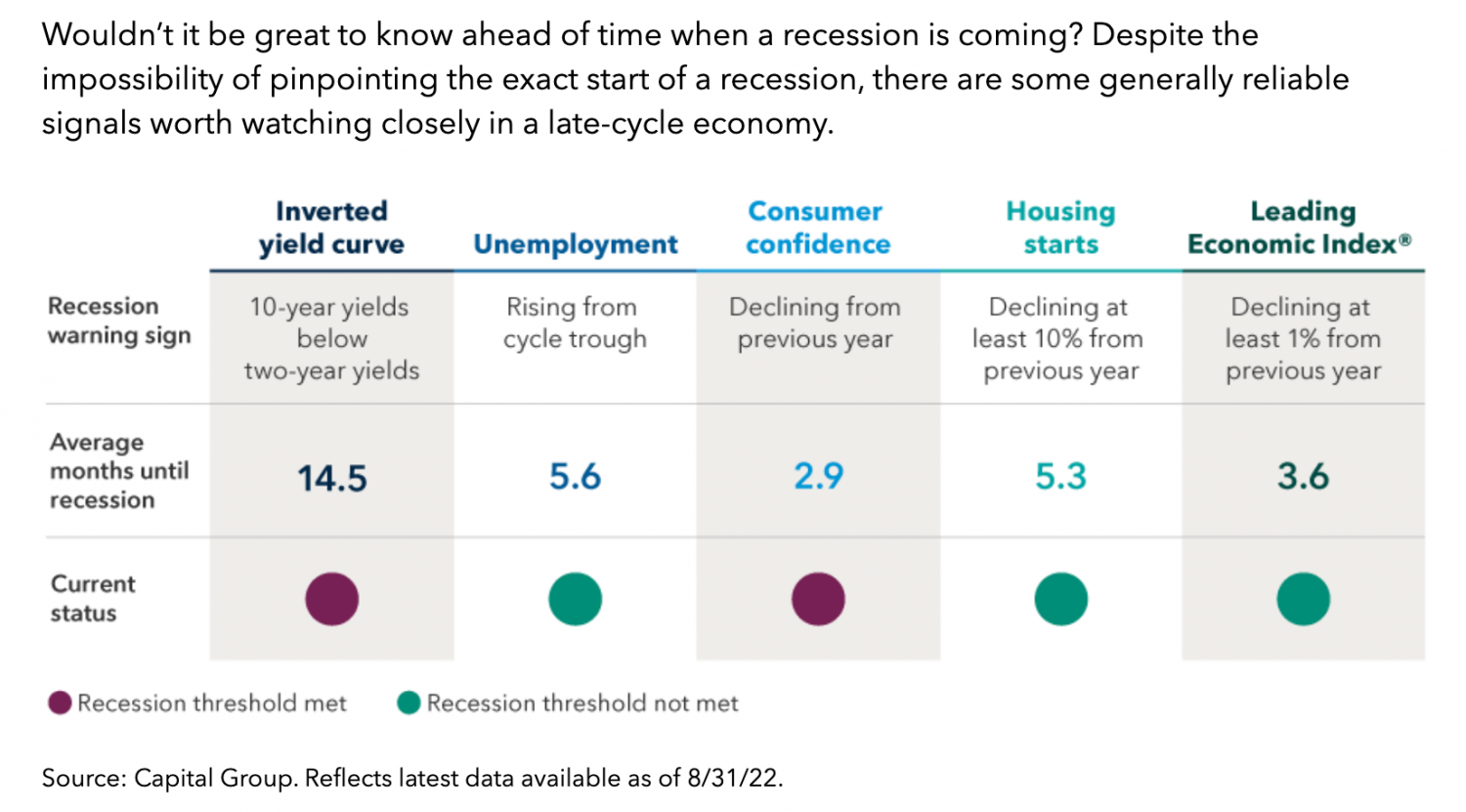 5-Day return for the week ending September 9:
DOW was up 1.09%
NASDAQ was up 1.79%
S&P 500 was up 1.81%
TSX was up 2.19%
Year To Date Numbers:
DOW -12.12%
NASDAQ -23.5%
S&P 500 -15.20%
TSX -6.89%
This past week we continued to see the impact of volatility with the markets down at the start and then a rally into Thursday and Friday. The VIX dropped to 22.79. The sentiment has changed to be a little more positive after several weeks of declines. Let's see what happens next week as the US reports the CPI numbers for August. Here's a blog I put together having a look at the next few months: A Best Case Scenario vs A Worst Case Scenario As We End 2022.
5-Day return for the week ending September 2:
DOW was down 2.70%
NASDAQ was down 3.25%
S&P 500 was down 2.73%
TSX was up 2.44%
Year To Date