If you are approaching 60 years of age, then you have a critical decision to make in the coming months. When is the optimal time to take CPP? Our government has decided for us that the Normal Retirement age should be 65, but does it work for you? That's a decision only you can make.
With that being said, they have provided some flexibility as to when you can choose to take your government pensions such as the Canadian Pension Plan (CPP) and the Old Age Security (OAS).
CPP - if you take it at age 65 you will be entitled to a "normal age 65" amount based on the maximum that a person could receive ($1114.17/Month for 2017). Very few Canadians receive the maximum. The average is somewhere around $664.00/Month. You have the option to take your CPP at age 60 at the reduced rate of .6% per month from the "normal age of 65". That is 60 months, which means that a person taking their CPP at age 60 (60 months early) will see a reduction of 36%. (Calculated as .6 X 60 = 36%.). A person taking their CPP at age 60 in 2017 that is entitled to the full CPP amount will receive $713.07.
Alternatively, you also have the option to delay taking your CPP until age 70. If you delay taking your CPP pension you will receive .7% per month more than the Normal age 65 amount. That means that a person waiting until age 70 will receive an increase of 42% (Calculated as .7 X 60 = 42%). In 2017, a person who qualifies for the maximum CPP benefit would receive $1551.35.
How do you determine when is the optimal time for you to take CPP?
Things you need to consider:
1.) Longevity. If your health isn't too good and longevity isn't in your genes, then you may want to take it early.
2.) Do you need the money to live? If so, take it. Just know that once you start taking CPP you have to keep taking it. Within the first 4 months, you can reverse your decision, but you will have to repay what they sent you.
3.) Estate Value. Remember that CPP has no Estate value. If you are single - NO ONE GETS YOUR CPP - it stays in the pool. Your estate will get a one-time $2500 taxable amount for your final expenses.
4.) Are you still working? If you are not working, it means that you are not contributing to CPP and it can have a negative impact on your future CPP cheque.
5.) How many years of Maximum contributions do you already have? If you already have 39 years of contributions, you qualify for a maximum CPP cheque, minus any reduction for taking it early. Paying into CPP in this case, will not increase your cheque at age 65. It may be better to start collecting CPP and benefit from what is called Post Retirement Benefits.
6.) Understand the Break Even points. Below, we compare 3 brothers who are triplets and decide to take their CPP at 3 different ages.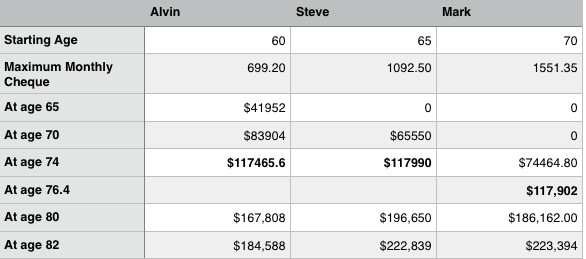 Assumptions: They each receive the maximum benefit in 2016. There is no indexing or taxes accounted for. The numbers are pre-tax.
Let me explain: Alvin and Steve each have received the same amount of money at age 74. It will take Mark until age 76.4 to catch up to his 2 brothers. It will also take Mark until age 82 to be equal to his brother Steve. Now if Mark lives for many more years, he will come out ahead of his 2 brothers. Before you jump to any conclusions, let's examine a couple of key points.
A. Alvin has been enjoying his money in the prime of his life. Golfing, traveling and spending time with his family. Maybe he used the money to contribute to his TFSA or RRSP and grew his money more effectively than the CPP Investment Board could. You have to realize the utility of money and the fact that money loses it value with time.
B. If Mark experienced an untimely death, there isn't any Estate value and his spouse would only get a limited amount of his CPP benefit as a survivor pension. In fact, if his wife was also a recipient of CPP and was getting the Max from her CPP, she may not receive anything from a Survivor pension.
C. The time value of money. In most cases, a dollar today is worth more than a dollar 5 or 10 years down the road.
This blog could go on forever discussing these concerns, but it would be easier for you to attend one of our Free Community Workshops on "Retirement Income Planning Strategies". You can REGISTER HERE.
Want to retire in the next few years? Find out why a Retirement Income Plan is necessary.
Your Retirement Income Specialists,
Willis & Nancy Langford
SaveSave