We have been in the midst of a market storm all year and it will continue for a while yet.
YTD numbers on Friday, July 1:
TSX - down 11.18%, S&P 500 - down 20.25%, DOW - down 15%, NASDAQ - down 29.72%
What's going on?
The main concern of 2022 is inflation and rising interest rates. Central banks from around the world are grappling with runaway inflation and are trying to balance an over-heated economy with avoiding a recession. It seems clear, that they (central bankers) will stop at nothing, even recession, to temper inflation. Their big concern is stubbornly high inflation that will not go away. If they cool off the economy, but inflation stays high we end up with stagflation - less employment, but everything costs more.
What's the fallout?
Rising interest rates. This will have a big impact on real estate. Sales and prices are already declining. How far? It depends on whether or not we end up in a recession. Real estate prices have dramatically increased over the past few years, driven by low rates, easy access to borrowing, fear of missing out, and economic growth. Jobs equal home buying. People go where the jobs are and that drives real estate higher. The work-from-home story is losing its staying power.
Declining stock market. The collapse of the bond market is unlike anything in more than 50 years.
Recession woes. Although recessions are a normal part of the economic cycle, we haven't had a significant one, along with a stock market bear, since 2009. Most people don't even remember that.
There's nowhere to hide. Growth stocks are down 30% or more. Value stocks are down. A traditional conservative balanced fund comprising of 60/40 split between stocks and bonds is down 14-18% year to date. Funds and portfolios designed to be on the low end of the risk spectrum are down 16%. The only bright spot has been energy.
How did we get here?
Simple - an oversupply of easy money and cheap borrowing that started in 2009 and made worse during the start of the 2020 pandemic. The only tool in the politician's tool chest is money. No matter what the problem is, politicians just want to throw more money at it. The federal Liberals just announced on June 16th, another $8.9 billion "affordability plan" to help lower-income Canadians fight inflation. It's only throwing more fuel to the inflation fire - they are clueless. They created the problem with over-spending, which has created inflation and now they want to spend more money to fight inflation which will only result in more inflation.
Central bankers are not only burdened with the task of fighting inflation, they are tasked with fighting misguided fiscal policy (taxes and spending). We have the Bank of Canada in front of the burning building trying to put the fire out and the government behind the building adding gasoline.
Experts have been warning of this "easy money policy" for many years and although we believed them, we just didn't know when it would eventually happen. It's happened.
There's a lot of pain right now and we are not out of the woods yet, however, there is a silver lining which I expand on at the end of this post. This is necessary. There needs to be a rebalancing of the recipe. We were all living in an artificial economic bubble where fundamentals didn't matter. Businesses that didn't even make money had valuations that were out of this world. It was nothing for a company to go public and raise billions from an IPO and yet they never had any profits - and in many cases never will. It was all speculation. That's all changing. It will be painful, but the other side looks good.
What does the other side look like?
Interest rates will normalize. Asset prices will come back to earth. Real estate will revert back to a more historic normal indexing. Valuations on the stock market will be more attractive and the cycle will begin again. There's a mean reversion taking place, which is more aligned to historic norms.
What should you do?
First, don't panic or make emotional moves. History and experience have taught us time and time again that those who ride out these storms benefit the most. Those trying to sell and get in at a lower price miss out. Just wait it out.
Second, if you have new money to invest then this is a good time to add some. We will bounce around, and you can never time the bottom perfectly, but we are close.
Third, stick with quality companies. Large multinationals with no debt, or manageable debt, will weather the economic times and still be around when this is over. For our clients, we have always focused on owning good quality equity funds diversified between Canada, the USA, and internationally.
Fourth, be patient. We are most likely only halfway through.
Fifth, reduce drawing income from investments if possible. If you have a cash reserve, draw from that for the next few months. Avoid taking too much cash from negative investments. At this point, it's about managing risk. Volatility isn't a big deal if you are in the accumulation phase, but if you are needing to draw monthly income, then it's vitally important.
Sixth, speak with us to discuss your situation, review your plan, and see if there are any changes needed. There may be some tweaking necessary. This may be the time to do some capital loss harvesting in non-registered accounts. Those losses can be carried back 3 years or carried forward indefinitely and used to offset other capital gains.
Seventh, put things into proper perspective and take a long-term view. Look at these charts. Over the past 5 years, all markets have done rather well. More than 5%/year on the TSX and 10% on the S&P 500.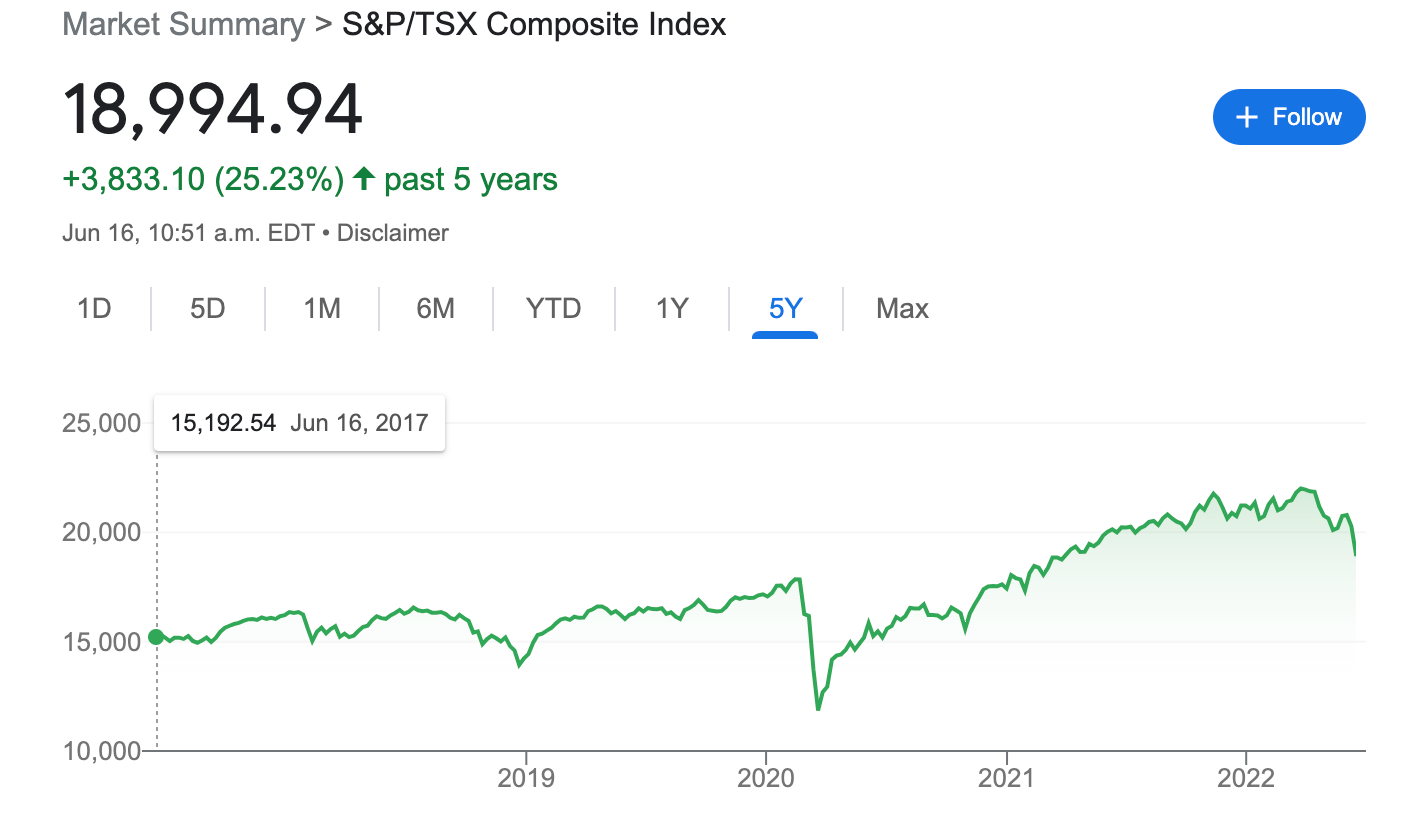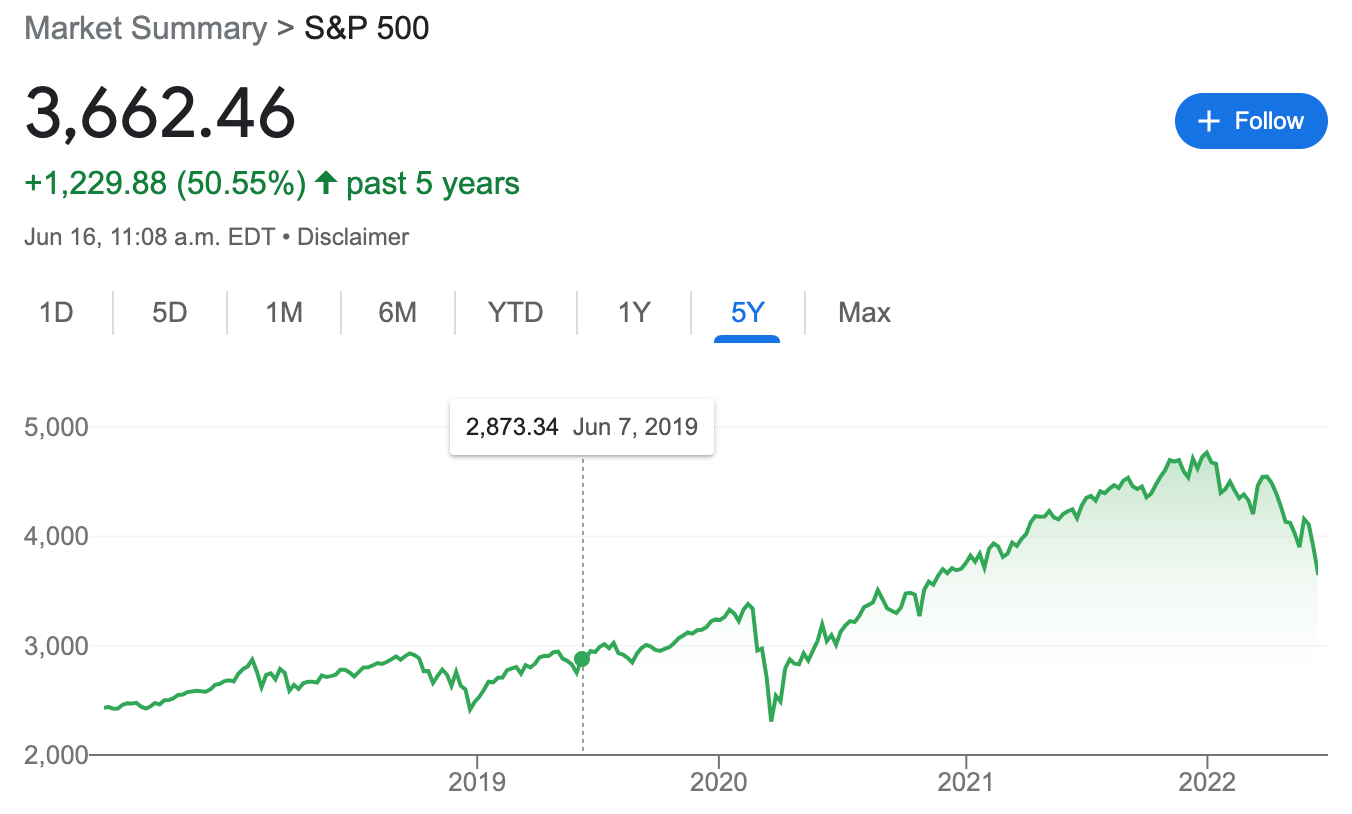 Eighth, are you too exposed to the public markets? Are you tired of the volatility? If you are, you can consider some other alternatives. There are many private pools that are not linked to the public markets. We still have funds and portfolios that are positive year to date.
Look at annuities - payout rates are 10% higher right now than they were in February.
Reserve cash. It's always a good idea to keep a cash stash. We have access to a savings account that we can offer that pays a daily interest of 1.75%, paid monthly with no restrictions, and no limits. Every time the Bank of Canada rate increases, your rate increases. You can open one in less than 5 minutes.
What not to do?
Don't lock up your money in 5-year GICs. For one thing, rates are going higher, so you will get more if you wait. On another note, there's no upside to a 5-year GIC. There are many investments that have the same yield with potential upside over the next 5 years.
Don't sell quality investments to buy junk. Avoid becoming too complacent or sticking your head in the sand. Regardless of what is happening in the markets, it's always a good idea to review your situation and have a plan.
The Silver Lining.
Valuations are very attractive. Everything is on sale. The P/E ratio hasn't been this attractive for quite some time. Anyone with cash on the sidelines has an incredible opportunity.
Mid-year US elections. Biden and the democrats face mid-term elections.
Here's a primer from the BBC.
Who is being elected?
Americans are represented in government by 535 lawmakers, known as members of Congress.
Congress is made up of two chambers - the Senate and the House of Representatives. The two work together to make laws.
The Senate is the 100-strong upper chamber. Each US state - regardless of size - sends two representatives. These senators are elected for six-year terms. Every two years a third of the Senate faces re-election.
The House of Representatives (often referred to as "the House") has 435 members. Each one represents a particular district in their state and serves a two year term. All seats are up for election.
Currently, all members of Congress align with the Democratic Party or the Republican Party.
The Democrats control both chambers, but by very slim majorities.
So far, this has made it easier for President Biden, a Democrat, to get things done.
But if the Republican Party gains control of either or both chambers, it will have the power to thwart the president's plans.
Republicans need to win five extra seats to take back the majority in the House this November.
It is even closer in the Senate, where the seats are evenly split between both parties at present. At present, the Democrats have control because Vice President Kamala Harris has the casting vote in any tie.
The Republicans only need to win one extra seat to gain control in November.
Primary elections to determine who will contest the general election for each party will take place around the country between May and September. High inflation. $5/Gal gas. A stock market bear. None of these events make Biden look very good and there will be a price to pay at the polls.
We are here to help if you want it.
Check out our fee-only, independent, unbiased retirement income planning.
Planning that isn't linked to products or misaligned corporate values.
Retirement Income, Investment, & Tax Planners,
Willis J Langford BA, MA, CFP
Nancy R Langford CRS